OneInsure Blog
Cashless Claim - Health Insurance
A Claim process of health insurance is very specific and depends on the insurance company you choose. Generally, below are the expenses which are covered under a Health Insurance Policy:
Hospital (Room & Boarding and Operation Theatre) Charges
Fees of Surgeon, Anesthetist, Nurse, Specialist, etc.
Cost of Diagnostic Test, Medicines, Blood, Oxygen, internal appliances like pacemaker, etc.
Health Insurance claim can be taken in two ways:
Cashless Claims
Re-imbursement Claims
A Cashless Claim can be only made when the insured gets his treatment at the Network Hospital across the country. Every Insurance company has a List of cashless hospitals where they can undergo a treatment. Let us look at the General Claim Process followed by Insurance Company at Network Hospital.
CLAIM PROCESS IN CASE OF CASHLESS TREATMENT AT NETWORK HOSPITAL
Step 1: Claim Intimation
If your hospitalization is planned, kindly intimate the Insurance Company 48hrs prior to admission.
If your hospitalization is an emergency, please inform the insurance company within 24hrs of your admission.
While registering a loss or claim, below given details are required
Policy Number
Contact Details of the Claimant/ Policyholder's (Phone No., Address, Landmark, etc.)
Name of the Insured/ Claimant person, who is hospitalized
Hospital Details
Nature of Ailment (For Health Claims)

Commencement date of the symptoms of ailment

Accident (For Accidental Claims)

Nature of Accident
Date & Time of Accident
Location of Accident
Step 2: Initiating the Pre-Authorization Process
A Pre-Authorization will be available at the Hospital's Insurance/ TPA Desk. You may also download the form from the insurance company's website.
The Insured/ Family member needs to fill in the First Section of Pre-Autho Form (Personal Details with Signature) and hand over to Hospital's Insurance/ TPA Desk for filling up the balance details.
Step 3: Submitting the Pre-Authorization Form
Hospital will verify the details & add the required information and fax the Completed Pre-Authorization form to the Insurance Company.
Documents required for Cashless Approval
Pre-Authorization form at the Hospital
Health Insurance TPA Card
ID Proof of the Insured & the Policy Holder
Past Medical History Papers (If any)/ First Consultation Letter/ Investigation Reports
Any relevant documents as required
Step 4: Processing the request for Pre-Authorization
Our in-house medical team will review the case and documents submitted by hospital
Claim Status shall be sent across to the Hospital.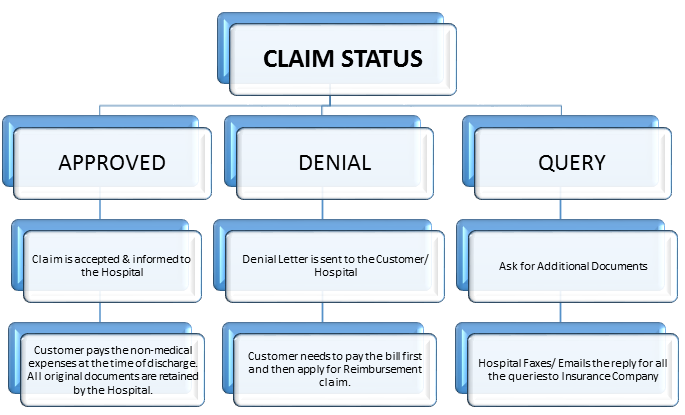 Step 5: Photocopy of Bills
Retain a Photocopy of your Hospital bills for maintaining your medical records.
We have also listed down the major reasons for Claim Denial or Query Raised by the Insurance Company.
REASONS FOR DENIAL OF CLAIM/ QUERY RAISED BY THE INSURANCE COMPANY:
| | |
| --- | --- |
| TOP REASONS – DENIAL OF CLAIM | TOP REASONS – QUERY RAISED |
| · Treatment in Non-Network Hospital | · Further Scrutiny of Claim |
| · Hospitalization for Illness/ Diseases which are not covered | · Not Disclosing all medical details |
| · Waiting Period, Co-pay and Deductibles | · Lack of Pre-Authorization or Pre-Certification from the specialist. |
| · Missing/ Incomplete Information on the Pre-Authorization Form | · Incomplete Details about the Test, or No reports attached |
| · Claim Submitted for Non-Payable Expenses | · Insufficient Medical necessities. |
| · Bills Tampered, Name Misspelled, Incorrect Patient Details | |

Our Role:
While registering a Claim, it is important to check whether the hospital is in the Network panel and follow the above steps for faster processing of your claims. We have a dedicated Claim's Team to handle your queries and help you resolve your queries.
HOW OneInsure HELPS YOU DURING YOUR CASHLESS CLAIMS

If you would like to know more about the services we provide or need any assistance with your claim, please click on the link below.
GET BEST QUOTE FOR HEALTH-INSURANCE