OneInsure Blog
Indians VS Insurance – How Indian Are You?
What makes us (Indians) so different from the rest of the world when it comes to insurance? A country with 31 states, 880 languages and countless sub-cultures is still unable to understand the basic necessities of financial security and life cover. That's right, this is what sets us apart. Being the second largest populated country, we have one of the lowest insurance penetrations. Insurance is a domain that offers financial security, mental peace and covers one's life against unexpected eventualities.
According to the IRDAI (Insurance Regulatory and Development Authority of India) report 2015-16 the total insurance penetration in India is only 3.4%. Why is it so?
Let's have a look at the 6 most prominent perceptions about insurance in India:
Our Country's Going Nuclear
No, we are not talking about the missiles. Indians are adapting nuclear family structure and moving away from the traditional structure of joint families. Both the structures have their own strongholds. However, while we packed our bags and moved away from the joint families our thoughts are still influenced by this system. Earlier there were multiple breadwinners and everyone shared the cost of living. Today most of the families have only one earning member, which makes the need for insurance greater.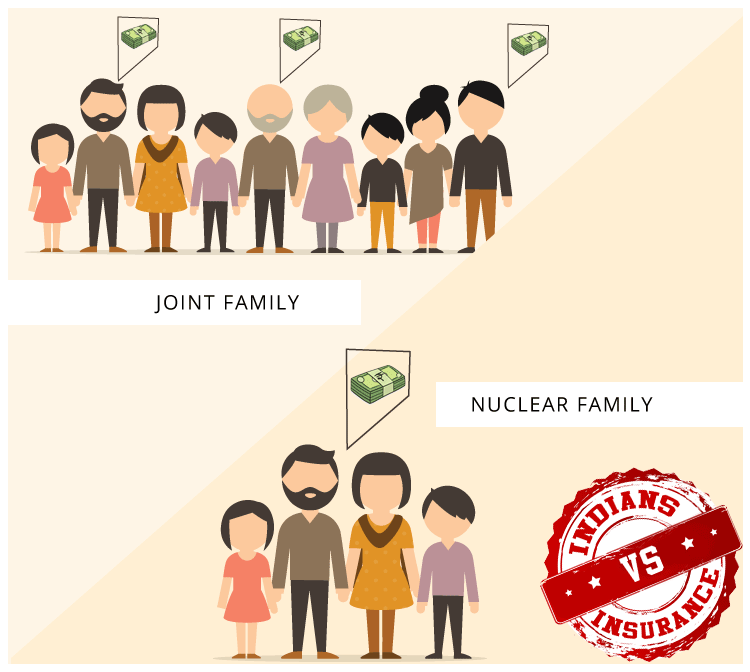 So, next time when you hear someone saying "Koi baat nahi bhaiya bhabhi hai na, bas ek phone hi toh karna hai!" do ask him if this is how the person wants to lead his life, by depending on others?
There was a time when people held one job for years. They would join a company just after college and only leave it when they move to other cities or retire. But today, we prefer to have a progressive job that is more likely to be unstable. As various MNCs are expanding and investing in India, the option to change the career is huge, but so is the risk of getting fired.
So now when you say "arrey bhagwan ne do haath diye hai, kahi se bhi kama lenge." are you risking your lifestyle?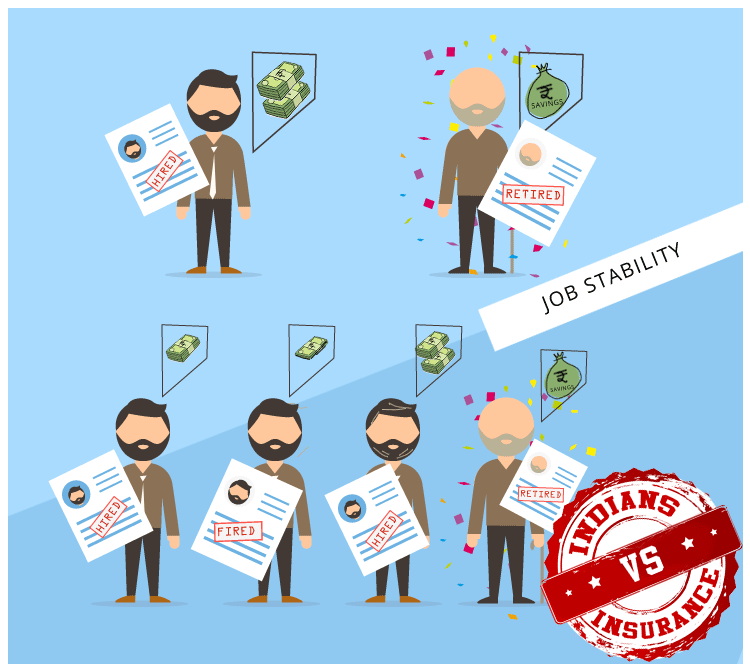 Have you ever thought that an unstable employment environment also demands planning for financial security? How will you have the financial security if you don't plan it now?
What Goes Around, Comes Around
They say "bhala karoge toh aap ke saath bhi bhala hi hoga" and we Indians completely believe them to the extent that we blindly assume good deeds are the perfect substitute to insurance. So instead of having an emergency or back-up plan to safeguard our future, we at times count on our deeds saying "mene kabhi kisi ka bura nahi kiya, toh mere saath kuch bura kyu hoga?"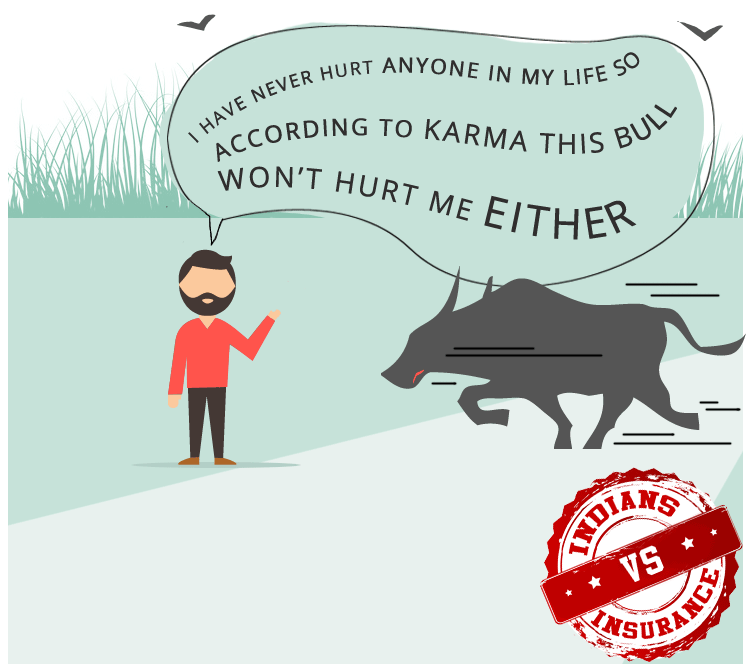 Karma doesn't work that way and bad things do happen to good people. Therefore, instead of relying on your deeds, you should be prepared for everything by properly planning your insurance and investment.
Inflation: The Inevitable Demon
Think back to the time when your monthly salary was ₹8,000. Today that amount could hardly keep you afloat for a week. This means the overall cost of living has increased – groceries, transportation, medical assistance, etc. are way costlier than it was earlier. To manage the thick and thin of your life you need a stable and adequate income. This is easily possible by properly planning and having insurance policies like whole life, ULIP, money back, etc. that will substantiate and support your earnings when you will need it the most.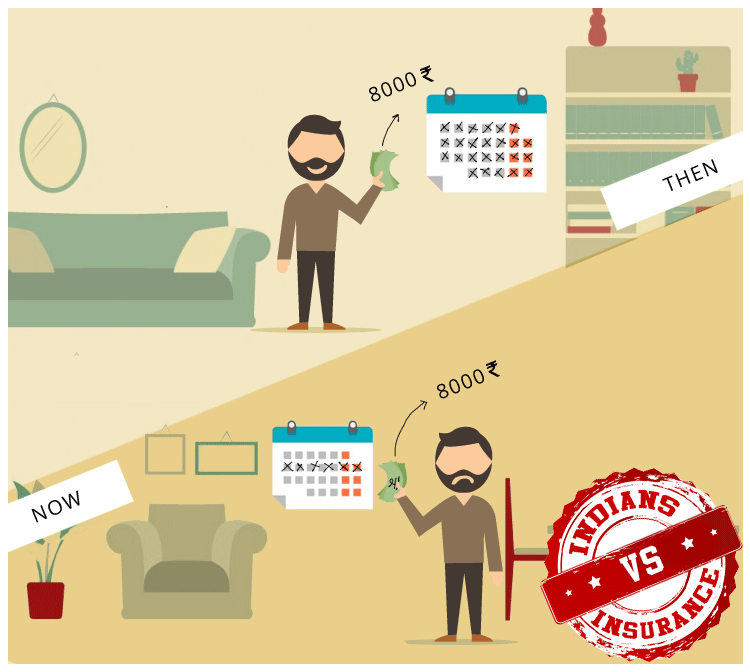 A 2016-17 report by WHO revealed that many families in India found themselves in a financial crisis because 87.2% of the total medical expenses had to be borne out their own pockets. This could have been prevented if they had an insurance policy, which only costs a fraction of the expense incurred on medical treatment. Don't you think so?
What are the returns? Will I get any other benefits? These kinds of questions are often heard while referring to insurance. We Indians are brought up in such a fashion that our focus is always limited to savings and investing only where returns are assured. Spending money where the returns are non-tangible is something that we always avoid, as that is what our parents have taught us.
But as an aware and informed citizen, it is important to realize that insurance is the answer to risk mitigation. Its various products are intended to provide different kinds of cover and protection, e.g. term plan and health plans are to cover the risk during the term selected, it is not an investment. We should feel good that we have managed to outlive the policy term and never had to apply for a claim.
Then there is another view that always says "insurance is only to save taxes". Seriously! This can mean only two things; either you have never read an insurance document or you are least bothered about financial security.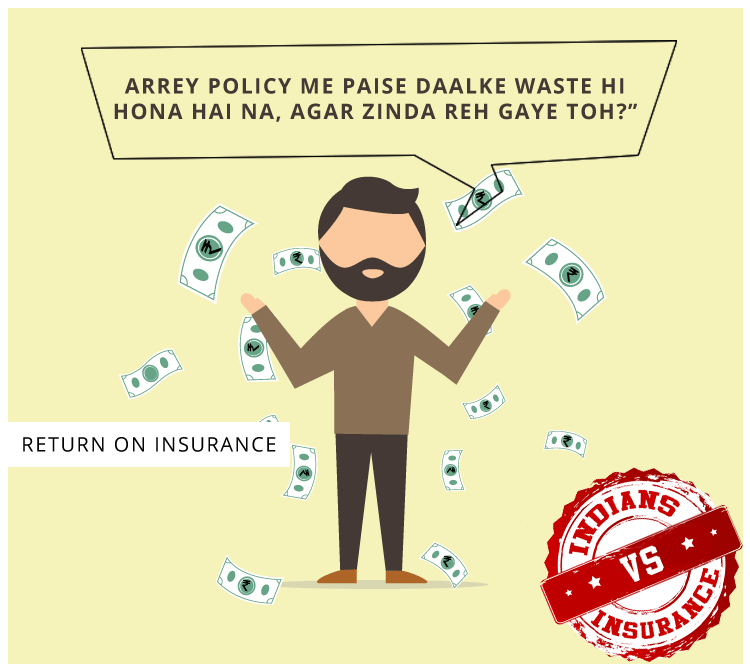 "Arrey policy me paise daalke waste hi hona haina, agar zinda rah gaye toh?" – Typical Indian Mindset
With pollution, population and tolerance, life expectancy has also increased. Compared to 80s & 90s, today we are more likely to live up to 80 years. As life expectancy has increased, we are more likely to lead a longer retired life. Also, more and more people are choosing to retire before the age of 60. This means we have about 25+ years of retired life to plan. It is therefore necessary to have a solid plan in place now, so that when we retire and our source of income is limited, we don't have to struggle to maintain our lifestyle.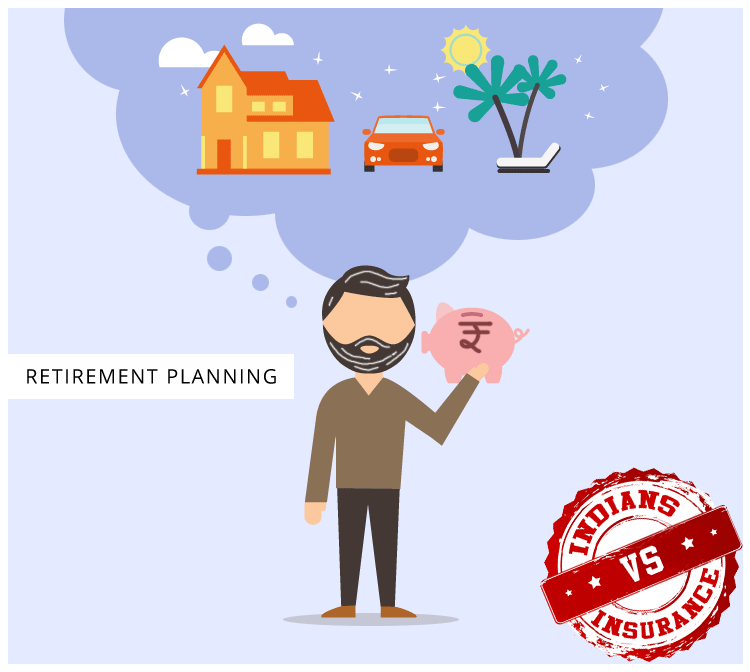 "Abe 70-75 saal tak hi toh jeena hai, itne payse bacha kar karunga kya?" It's like you don't want to live more than 75 years of your life. What if you do? What if you outlive your retirement plan? Have you properly planned for those 25 years of your retired life?
So based on this article, how Indian are you?
If you think it's high time to move beyond these parameters and take a step towards a healthy and financially stable life, then it's time to change our perception and start safeguarding ourselves with the help of insurance.

GET BEST QUOTE FOR LIFE-INSURANCE