OneInsure Blog
Things to Consider When Buying Critical Illness Insurance
Heart attack to become number 1 KILLER disease globally!
Incidents of heart attacks are increasing day by day to an extent where you yourself can easily recall at least 2 or 3 members from your extended family who have been affected by a heart attack. Here are the statistics that show a drastic rise in the rate of heart attack cases in India: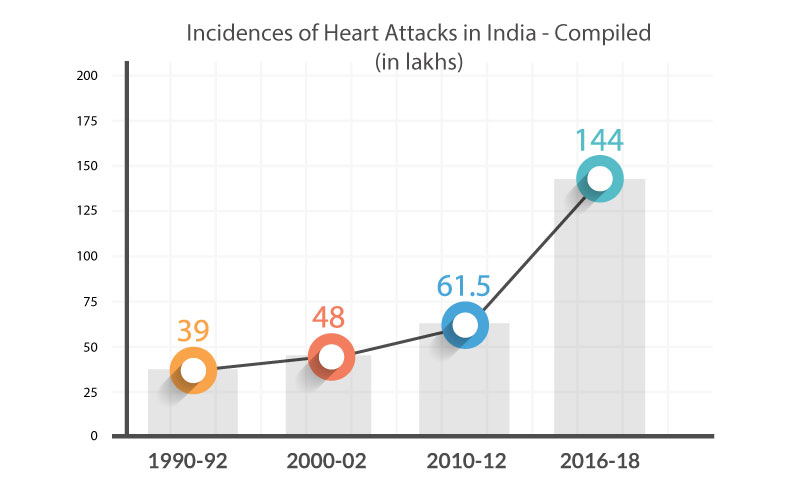 You could be next!
With rising medical costs, diseases like heart attack can wipe out all your finances in a matter of a few weeks. At such times, having a critical illness insurance policy along with a health insurance policy is crucial.
A health insurance policy will only pay for your medical and hospitalisation costs, but a critical illness policy will pay you a lump sum when you are affected by a critical illness. The lump sum amount offered can be used for your post-treatment costs, to clear debts, or to pay for your daily household expenses.
During the course of the treatment, most patients are forced to give up their jobs or take a sabbatical, which results in loss of income. A critical illness policy helps you overcome this barrier and allows you to continue the treatment without any hiccups. This is something that a health plan is unable to help with.
A combination of health insurance policy and critical illness insurance policy is a must in today's time. So, start early and get a policy when you don't need it, or else you may not be eligible when you actually need it.
Here's a list of things you should consider when buying critical illness insurance.
Check the Number of Diseases That Are Covered
Different insurance companies cover different critical illnesses. Therefore, you must go through the list of critical illnesses covered before buying a critical illness insurance policy.
Is It a Standalone Policy or an Add-on?
A critical illness insurance policy can be bought as a rider to your existing health or term insurance policy or as a standalone policy. Often, the policy seeker gets confused as to what to go with, an entire standalone policy or with a complementary rider? Therefore, it is important to understand the difference between the two and buy one that suits your needs.
(Suggested Reading: Critical Illness Rider vs Standalone Policy – What's Better?)
Does It Complement Your Health Insurance Policy
When selecting a critical illness policy, make sure it balances with your health insurance policy so that you get adequate coverage at a reasonable price. Both put together should cover all aspects of healthcare, so that your health insurance portfolio is secure.
Benefits You Would Get at the Time of Renewal
Critical illness insurance needs to be renewed every year. Therefore, before buying any particular critical illness insurance, make it a point to find out about the renewal benefits you would get from your insurer for the year you haven't filed any claim. Also note that many critical illness plans come with a renewal limit and cannot be renewed once the plan reaches the renewal limit. Therefore, choose a plan that offers coverage for a long duration.
Minute but Important Factors Associated with the Plan
Every critical illness plan comes with exclusions and limitations that vary from policy to policy and insurer to insurer. Here is the checklist of the most important exclusions or limitations that should not be avoided:
Nearly all critical illness plans come with a waiting period (the time period between buying an insurance policy and getting diagnosed with a critical illness) and survival period (the number of days one survives after the policyholder is diagnosed with a critical illness). Before buying critical illness insurance, it is important to check if these periods are involved and the durations.
Another factor you need to consider is the sub-limits placed by the insurance companies. There are chances that a plan can come with a limit on room rent cost, hospitalisation costs, medical tests, surgical costs, or limitations related to specific ailments.
Always check the claim settlement history of the insurer before purchasing any insurance policy.
Buy a policy that offers a wide range of network hospitals that are near your house, workplace, or are easily accessible.
The last and most important factor is to understand the claim settlement process. You must know the answers to:

How will I get my claim settled
Will I get completely cashless treatment
Will I get money immediately in case of reimbursement-type treatment
What documents are required to raise a claim in case of reimbursement-type treatment
A 35-year-old healthy Indian can buy a Critical Illness policy with a cover of Rs 10 lakhs for as low as Rs 239 a month
--
To conclude, one must understand that a critical illness insurance policy is an additional layer of protection upon your health insurance policy, keeping in mind the uncertainties of life. Therefore, you must research thoroughly, invest smartly, and live happily!
M – 86559-86559 | E – support@oneinsure.com
Be Sure with OneInsure
GET BEST QUOTE FOR CRITICAL-ILLNESS