OneInsure Blog
What Are The Consequences Of Driving Without Car Insurance?
Planning to buy a new car? That's great! What about car insurance? Have you given it a thought?
Owning a car was considered a luxury in earlier days. But lately, having a car has turned into a necessity given the long-distance commutes, and almost every household has at least one car. Now, we all know that one cannot even take his/her car for a spin without having it insured. According to the Motor Vehicles Act, 1988, every four-wheeler on the Indian roads needs to have a valid car insurance cover. If you are caught driving without one, you would have to pay a fine of ₹2,000 and/or face imprisonment of up to 3 months. So, not only is it illegal to drive without insurance, the liability you have to shoulder in case of an accident can mess up with your finances, and possibly land you in major debt.
If you still think it is alright to not have insurance for your vehicle, here is a look at what you're risking:
1. Losses caused to third party
When a road accident happens, there is a lot of finger-pointing. What if a mistake from your end was the cause of the accident? Aren't you going to have to pay for the losses suffered by the other individual? The answer is a definite yes. Chances of the other individual letting you go scot-free are slim and you are going to have to compensate them for the losses.
The good news is that the law requires you at least have a third-party cover to ply the Indian roads. Under Section 146 of Motor Vehicles Act, 1988, having a third party insurance is compulsory if you have a car. You are not permitted to drive without it. So thanks to the insurance cover, you will not have to pay for the losses incurred (third-party) since your policy mandatorily covers it.
Don't risk driving without insurance. If the other individual passes away on account of your negligence, you can only imagine what the liability will be like upon you. So make sure that if you have a car, you have an insurance cover for it.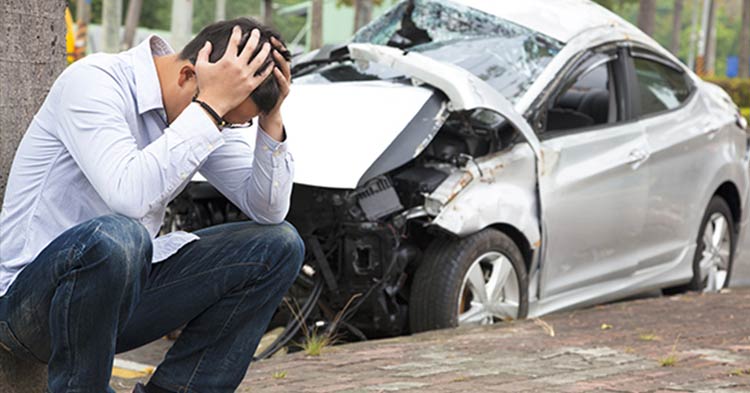 2. Losses for damage to own vehicle
If a tiny scratch or a dent can give rise to emotions like sadness and anger, imagine the car owner's state if the vehicle is involved in a major road accident.
Since insuring a car with a third party cover is mandatory by law, you needn't worry about paying for the losses borne by the other party. But who is going to take care of your losses? Who is going to pay for repairing your vehicle? When you have a comprehensive car insurance policy, the insurance company will cover you for third-party liability as well as own damage to the insured vehicle. A comprehensive cover protects you from potentially suffering financial ruin should your vehicle suffer damage in an accident.
Bottom line
As stated numerous times above, having a car insurance policy is a must for anyone with a four-wheeler. If you get caught driving without it, not only will you be charged a fine, you risk ending up behind bars. Nobody likes that!
Although the law states you must at least have a third party cover, it is always advisable to opt for a comprehensive insurance policy. The former pays for the damages caused to the third party, while the latter also covers losses suffered by you on account of damages to your vehicle. So there is more to gain with a comprehensive cover. However, it must be noted that premium rates for a comprehensive insurance policy are slightly higher than third-party covers, but that is because of higher coverage. To understand the difference in premium rates, consider this - the third-party premium payable for a Maruti 800 having a capacity of 796cc would total around ₹2,500 and comprehensive premium for the same would be around ₹3,500 (approximately). Although comprehensive car insurance policy costs a little more, you get to avail a higher coverage. Given that cost of car repairs are costly, it makes more sense to have a comprehensive policy even if premiums are a little higher.
Now, it is completely up to you if you want to go for a comprehensive car insurance policy. if you don't wish to go for higher coverage, you can continue with your third-party cover. The most essential thing that car owners need to remember is that insurance is a must for four-wheeler. If not for the law, at least do it for yourself - you are safeguarding your finances.
GET BEST QUOTE FOR CAR-INSURANCE