OneInsure Blog
Backpacking For New Year Holidays? Here's Your Travel Packing Checklist
A holiday to a far away destination would probably be the best thing that you could gift yourself and your family this New Year. However, amid all the excitements and the thrills, are you sure you're not missing out on anything important that you would require during your travel? If you're not sure, then here's OneInsure to your rescue. Below is your Ultimate Travel Packing Checklist that you need to go through before you embark on your much-awaited New Year Holidays.
1. The Bag
Your bag is your all-time travel partner because in it you have all that is necessary for your trip. So make sure your bag is water-repellent, anti-theft and cut resistant. Besides, it should be big enough to store all your essentials.
Tip – Do not keep your money in a single wallet. Divide your money and put them in different pockets of your bag.
2. All that is basic
Check if you have put in all the basic stuff that will be required inevitably during your travel. Check the table below and tick them off when you pack your bags –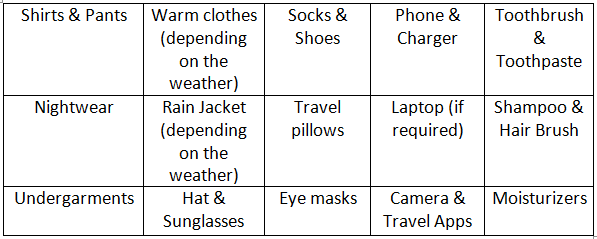 3. Travel Documents
Maps – Are you one of those travel junkies who prefer road trips over train journeys? If yes, you surely need maps to keep yourself on the right track.
Guidebooks – Don't forget to carry a guidebook of the city/country you're travelling to. This will help you make the most of your trip.
Cash, Credit/Debit & ID Cards – Carry both your cash and credit/debit cards safely. As suggested earlier, don't put all of these in a single place. Separate them. Also, don't forget to carry along a copy of your ID proof.
4. Tickets & Passport
Bad or not a bad memory, double check on your tickets and passports! The last minute rush can make any person absent minded and you surely do not want your trip to begin on a haphazard note. Put a reminder if necessary.
5. Travel Security
Needless to say, Travel Insurance must be an integral part of your trip, whether domestic or foreign. It provides cover for your medical expenses, flight cancellation charges, emergency evacuation and for loss & theft. Reach out to OneInsure if you haven't got your travel insurance already. And once bought, make sure you have their number handy (Contact - 86559 86559) so that you can reach them in the event of uncertainties during your travel.
You can read more on travel insurance from here.
6. All that requires a halt
Since you're on a break, give some of the things at your home a break too. Unplug appliances, turn off switches, empty your refrigerator (if the trip is long), and stop milk-vegetables-newspaper deliveries (until you return). And yes, if you have pets, leave them in the company of reliable friends or relatives.
Parting Advice - Do not carry entertainment magazines or engaging TV shows. This will impact your travel experience and you will end up doing more of the things that you could have done sitting at home anyway.
Travel safe and Happy New Year :)
GET BEST QUOTE FOR TRAVEL-INSURANCE