OneInsure Blog
How to Make the Best Use of the OneInsure App
Dear Policyholders, it has been a lovely journey so far where we listened to our App users' reviews/feedback on a daily basis and have accordingly taken necessary measures.
We chose to communicate with you in the form of this article to tell you a little something about what the app really offers and how you can make the best use of it!
As we went through our user base, we realized that people only partly understood the uses of the app. One set believes that the OneInsure app is a platform to store all policies digitally at one place - which is true but that's just one of the many functions. The other set believes that this app offers renewal reminders and gives users the option to make online premium payment - this is also true, but again this is just one of its several functions. The app has so much more to offer besides storing policies, setting renewal reminders and online payments. We are in the process of building an Ecosystem of support for insurance and we want insurance holders to manage their policies easily.
So what does it mean to manage policies?
There are certain things that an insurance holder needs to do in order to get the benefit of their policy when needed. Paying your premiums on time and disclosing complete and accurate information are just some of the things you are expected to do. Think about this - a CNG car owner needs to inform their insurer that they have a CNG fit in their car. Failing to disclose the matter, could possibly lead to denial or delay of claim pay-out. Car is an easier example to understand, but do you realise the risk if something bigger was in the picture, like your health or life?
Below are a few questions which might not have occurred to you until now but will surely help you understand what is at stake and how to get over it.
Have you updated your personal info like phone number and residential address with the insurer?
Is this really something that you need to do? Oh Yes, this is a very crucial piece of information and your insurer should definitely be informed about it. If you don't inform your insurer, you risk losing the claim amount or even the cashless service you get in your health insurance plans.
You can easily update your personal information by raising a service request on the app.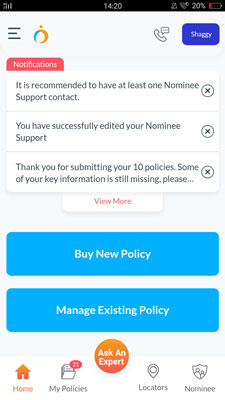 Step 1: Go on Manage Existing Policy (Alternatively tap on Ask An Expert, select category of your policy, drop in your query, and tap on Submit)
Step 2: Click on View All on the middle right-hand corner
Step 3: Select your existing policy or add another policy if you wish to change the details of the policy you haven't added
Step 4: Tap on Policy Detail Correction and do as directed
Is your nominee informed about all your policies?

It has been seen that only about 30% of insurance holders are highly organized. This is a very low percentage of people keeping their nominees in the loop concerning their policies. Many are unable to keep their loved ones updated about their policies due to time restrictions, busy schedules etc. To help such individuals, we've built a feature called 'Nominee Support' on the app. What this feature does is it inform your near and dear ones (i.e. your nominee) about all the policies you hold and how to make a claim when the need arises. It is very easy to add a nominee support contact to your account on the app. Read here to know the process.
Irrespective of whether you are an organised Insurance holder or not, it is very important for you to have this information updated. This helps your nominee support contact to get in touch with us and we guide them through the entire process of making the claim.
Do you really understand your policy and what it has to offer?
If you answer is "Maybe" or "No" then KYP (Know your Policy) feature, built into the app, is for you! You can easily find out what your policy has to offer from the knowledge section.
We have realized in the past few months that most health insurance holders were not aware that they get a free annual health check-up as a product offering. If they had known, they could have called us or emailed us for arranging a health check-up.
If the KYP for your insurance does not show up, this may be because over the last 2 years we have tried and compiled KYP for highly sold products in the market but we haven't completed the list. The products are getting updated by our product team as I write this article, but just in case if you don't see it here feel free to give us a call on 86559 86559 or email us at support@oneinsure.com and we will help you understand it.
Do you know where your network hospital/garage is located?
It is practically impossible for a person to know about network hospitals since one wouldn't know where and how one will fall ill. We have tried to solve this problem in the app - our app shows you all the network hospitals/garages. Just tap on Locators and select the option you're looking for. You will get a list of nearby hospital/garages. Besides, you can also look for nearby insurance branches, ambulances, and blood banks.
One thing we would like you to know is that although we have fixed several bugs, there can still be small areas where improvements can be made. We always welcome feedback, so do not hesitate to inform us if you find something broken in the app or where you would like to see an improvement. Let us together make this an app which you can completely rely on! We have been really happy to see over 25,000 satisfied families since the last 9 years of operation and want to continue it this way!
If you are benefitting from our app then it is our humble request that you recommend this app to your near and dear ones. You can share this link (https://goo.gl/kyDeE3) or share the app from the Share section under the hamburger menu.
If you think there is no value add in this app then we are all ears to hear how we can improve the app! Feel free to let us know from the App feedback section under hamburger menu or writing to us at app-support@oneinsure.com