OneInsure Blog
Why Should I Buy Insurance?
Before you proceed to the article, let's go through a list of questions:
How will you pay hospitalization bill of Rs 5 lakhs if you meet with an accident?
What about your family's daily needs and your post-hospitalization expenses if you are on complete bed rest for 3 months post your accident?
How will you pay the medical expenses of Rs 10 lakhs if you are diagnosed with cancer?
How will your family survive financially in case of your sudden unfortunate death?

What about your child's education/marriage?
What about your family's lifestyle?
Who will pay the outstanding loans?
Relax! You would not have panicked while reading these questions if you had insurance. Because, insurance works as your financial shield when you fall victim to sudden circumstances that are beyond your control.
What Is Insurance? How Does Insurance Work?
Insurance is a way of protecting yourself and your family from financial losses. It's a legal contract between the insurance company (insurer) and the individual (policyholder/insured), where the insurer promises to pay for losses incurred by the policyholder in case of a sudden mishap. In return, the policyholder pays a premium for the promise made by the insurer.
An insurance policy has details about the conditions and circumstances under which the insurance company will pay out the insured amount to either the policyholder or the nominee. Naturally, there are different types of insurance to cover for different types of conditions and circumstances.
No, Insurance Is NOT Costly!
It's a myth that insurance is costly. Because the risk of claims being raised is distributed among lakhs of people, the insurance company can easily afford to provide high coverage in exchange for pocket-friendly premiums.
OneInsure's Money Shield – Complete Financial Safety
When it comes to providing financial backup, OneInsure has found a smart way out for you. Here's how you can ensure complete financial safety against almost any adverse circumstances with an amount as low as Rs 2,390 a month.
OneInsure's Financial Shield
=
Term Insurance (pays in case of unexpected death)
+
Health Insurance (pays in case of hospitalization expenses)
+
Personal Accident Insurance (pays in case of post-accident expenses)
+
Critical Illness Insurance (covers when you are diagnosed with critical illnesses like cancer)
Quick Quotes – The Proof Is in the Numbers!
Here are a few approximate quotes of various insurance plans calculated based on age, income, and coverage required by the individual: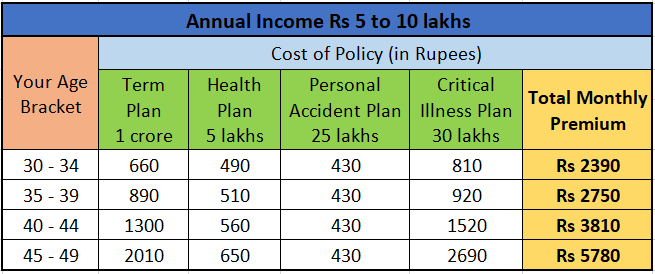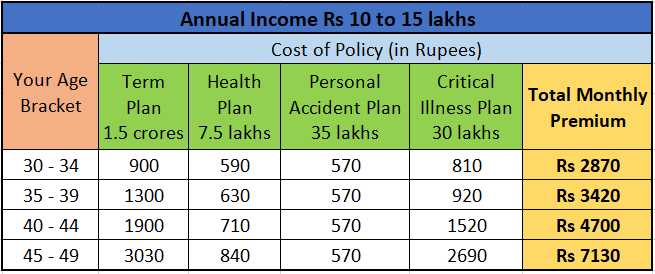 --
With the help of OneInsure's financial shield, protect yourself and your family from the dragons in your life!
In case of queries, speak with our financial planning expert
M – 86559-86559 | E – support@oneinsure.com
Be Sure with OneInsure!